Fashion is an aesthetic expression, at a particular time and place and in a specific context of clothing, lifestyle, Footwear, makeup, hairstyle, accessories, and body proportions. On everyday basis, the term implies a look defined by the fashion industry. Fashion is an art an expression.
Only by considering the customers requirements, and adapting a new markets, New digital trend, and technologies, one can fulfil the needs of fashion designing. Creativity and designing are the culture of fashion industry. Traditional system no longer works in this industry and hence the suitable Online Fashion Designing software can be the best practice. Open-source free online fashion designing software good for Individuals, small scale industry and start-up industry. Here are the few names of the free online software's listed below.
Fashion Designing Then and Now
Charles Fredrick Worth took first initiative in 1826 to be known as a first fashion designer of the world. He has his own fashion house "House of Worth" in Paris was big talk of the town. This is one of the reasons of Paris to become the very first fashion capital. Initially it was more of "Haute Couture", where garment was made for Princess and other wealthy persons. Later, it was moved towards mass production of garment. Today, they are not just deigning clothes but more into style and comfort, and other elements too.
How Does a Fashion designer design a garment?
Fashion designers is working as a technical team to produce style and comfort for an individual's that help create the billions of suit, dresses, shoes, and other clothing and accessories purchased every year by consumers.
Designers studied sketch designs of clothing and accessories, fashion trends and select colours and quality of fabrics, and oversee the final production of their designs.
From sketching ideas on a paper brings out an operational garment by focusing on several aspects and coordinating with multiple division like Functional & Aesthetically pleasing. The key focus of the designer will be on "Who will wear" & "For what occasion".
A Fashion designer responsible to conceive:
Garment combination
Colour
Textured
Proportion
While Designing, Fashion designer evolves wide range of
Pattern
Design
Style
Material
Purpose
There are following occasions garment are created for:
Conventional garment
Office Wear
School Wear
Party Wear
Everyday Wear
Bridal Wear
Haute Couture
Sports Wear
Bespoke Stitching
Knitwear
Kids Wear
Swim Wear
Women Wear
Men's Wear
Evening Wear
Casual Wear
Different sizes of garment
Evening Wear
Casual Wear
Small
Large
Medium
Extra-Large
Extra-Small
Free Size
Fashion Designer team includes the following member in their team.
Extra-Small
Free Size
Pattern Maker
Textile Designer
Taylor
Stylist
Illustrator
Image consultant
Model
Sponsors
Buyer
Critical Challenges faced by a fashion industry today.
Ever changing customer psyche
Reduce lead time
continued investment
Onshore and nearshore sourcing
Piloting in selected market
Spike in personalization
Evolution in the business model
Diversification
Production
Meet the changing preferences.
Customers
Agility
Transparency
Accessibility
Ownership
Advantages / Benefits of Fashion Design Software
Users can effortlessly coordinate and learn several workflows in digitization, along with the growth of software and online tools. Online Fashion Designing Software comes with ready to use templates which makes beginner to test and use the software very easily and effortlessly. This software includes multiple designs and view his creations before even he starts cutting the clothes. There is cost cut facility, and this contributes to more productivity.
Faster time to market
Creative design
Less waste
Digital workflow
Transparent function
Easy Collaboration
Easy merchandising
Automated
Analyse
Decrease in cost.
Smart templates
Key Features of Fashion Design Software
Best online fashion design software solutions come with excellent features that provide freedom to the designers to expand their creativity and work smoothly. There are systems that help a designer follow a rhythm.
Decrease in cost.
Smart templates
Design export
Fabric Matching
Fashion illustration
Pattern grading
Pattern, colour & art storage
Apparel tools
Unlimited designs
Minimal repetitive task
Material development
Individual sketches
Drag and drop sketches.
Pre-production
3D solutions
Facility of visualize.
Easy to experiment with a wide range of fabric colour and pattern.
What are the best software solutions for designing clothes?
A several years of experience, developing and creating hundreds of studies on some of the best software services, we have free online software list as mentioned below.
Browse the sections below and expect to come away with:
A new perspective on some of the most-utilized fashion designing software across the fashion industry.
Examples of top free and open-source fashion design software to inspire you.
Pro tips for kicking your fashion designing business up a notch.
These software solutions have good reviews on Good Firms platform, and the satisfactory score keeps increasing whenever the software solutions are ranked by users.
Names of the free and open source online fashion deigning software
1. Valentina
A Valentino is an open-source pattern drafting software solution. This kind of software is used by individuals, small designers, and small & medium textile industry and other garment companies. It is easy to use and powerful automated workflow, Valentina is providing a re-designing and manufacturing of garment.
The software provides its excellent features and allow its user to understand colours, styles, patterns, and end-products as well. All stylish and fast fashion design product produce by Valentina. Valentina is popular for its contemporary pattern makers. It was initiated by Roman Telezhinsky back in 2013.
Key Features of Valentina:
Patterns based on mathematical formula
Instruction-based drawing tools
Above fifty patterns making software
Unique patterns
Forum for support
Easy synchronization
Compatible with multiple systems
Easy-to-create smart design templates
Easy-to-download, test and create patterns
2. Blender
Blender is also one of the free and online source fashion design software solution packed with 3D creation suite. It used and ran on Linux, Windows, and Mac computers. This software also used by Individuals and small scales industry and fashion design studios.
Key Features of Blender:
Rendering
Compositing
Modelling
Rigging
Animation
Simulation
Motion tracking
Video editing
2D animation
The software used for rendering covers geometry, shading, lighting, subdivision & displacement, interactivity, layers & passes, camera & effects, motion blur, volumes, and textures. Furthermore, newly added features cycles extend the facility to draw line under python scripting and parameter editor. It makes user easier design and shapes. One can visualize with accuracy in both offline and in real-time. Integration and multiple pipelines are also another feature of this software. Creating, sculpting, and editing models are much easier with Blender free and open-source fashion design software.
3. Tailornova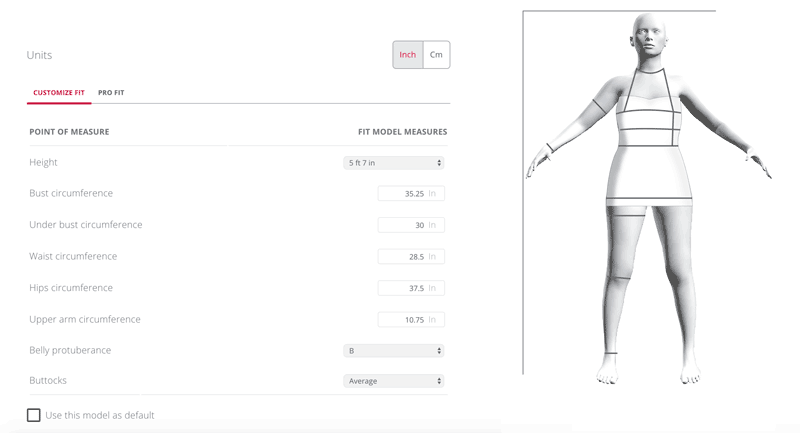 Tailornova helps individual to create unlimited design quickly and easily with the help of amazing feature of fashion design software with 3D simulation facility, proper customization and unlimited templates along with other creative feature. Tailornova is completely web-based software which is easy to use and one can make their own design in just few minutes by just pointing and clicking the patter and sketches.
Key features of Tailornova:
Pre-determined ease settings
Option to PDF patterns and print out
Automated pattern measurements
Intermixable templates
Templates come in 10 different lengths
Ease adjustment
Sewing instructions
Vector 2D flat sketches
Custom-fit pattern
Ecommerce Integration
Garment simulation
3D FitModel
4. Pattern Design software
This software is a product of EFI opitex. Pattern design software is an end-to-end fashion designing software services which helps users to design, develop, and produce stylish garment at a cost effect rates. This software approach in an eco-friendly design service. This is also a time saving software with perfect automation, fashion pattern and design which made simple and efficient with this software. The sharp features of this software are virtual samples, enabling stylish outcome, minimize wastage of fabric, colour, end outcome, graphic placements etc.
Key Features of Pattern Design software:
Facility to showcase virtual samples in 3D environment
Customizable fabric and textures
Compatible with Mac and Windows
SaaS showroom for digital display
Facility to share digital workspace
3D Design illustrator
2D pattern samples
Virtual images
Collaborates with cutting layout tool – Marker
Facility to reduce fabric roll inventory
Automated order management tool
Orchestration tool
Real-time validation
5. Browzwear
It is one of the best online fashion design software tools. This software includes comprehensive features like 3D fashion designing, creative developer, marketers & production team along with 3D fashion designing. Target audience in the market is Retailers and brands, individuals.
Key Features of Browzwear:
Advanced consulting & Integrated service with open platform
Facility to design for manufacturing with Smart Design
Trailblazing technology
True-to-life 3D images
Flexible and powerful dashboard
Create designs with Vstitcher
Create new styles and a variety of designs with Lotta
Collaborate and merchandize with Stylezone
Automatically analyze the fabric with Fabric Analyzer
Realistic 3 D simulation
Improved accuracy
6. SanpFashun
SnapFashun is also one of the leading free online fashion design software that is most convenient, affordable, and easy to use. The background of this software is design by keeping students and individual in mind. This offers free templates and sketches to which one can create customer design easily. There is online free version and test software available for this.
Key Features of SanpFashun
Compatible with Windows and OS X
Work on multiple windows
Preview of the sketch in a larger image
Easy to search and sort sketches
Simple Intuitive dashboard
Interactive preset SnapLibraries
Multiple Categories
Easy to store and retrieve sketches
Drag and drop facility
Facility to add new SnapLibraries
Free templates and sketchbooks
Syncs well with Adobe Illustrator CC
7. Edraw Max
Edraw Max is easy to use and flexible software that helps to create wide range of sample and design patters along with the variety of styles and sketches. Any design and style of garment is easier with this vector based free fashion design software. User can customize its feature according to their need like add any colour, any design to the vector images, create a new look with Edraw Max.
Key Features of Edraw Max:
High-quality outputs
Sample cloth clipart
Predefined themes and colors
Huge collections of templates and styles
Excellent file compatibility
User-friendly interface
Drag and drop facility
Vector-based designs
8. Clo
If users looking for creating a simple design for easy looking garment like Shorts and T-shirt, then Clo is the best fashion design software. This software is now available free on google. Clo software is having its own unique features like high-quality image, realistic image, 3D garment, Sketches, Multiple languages. Clo fashion design software is used for individuals, small business, and entrepreneurs.
Key Features of Clo:
Unlimited colourways
Engineered print layouts
Turntable images & videos
Easy collaboration via closet
Compatible with multiple external applications
Personalized user training & support
Modular design
Internal renderer
3D simulator
Fabric kit
Segment sewing
Auto grading
Facility to merge patterns
Facility to add the hardware items like buttons, zipper, etc
Fabric fine-tuner
View, measure, arrange and edit Avatar style
Create unlimited graphic placements
Conclusion
The Fashion industry itself growing amazingly fast and with this support free online fashion design is growing at a high pace. AI technologies are put into action. All-over workflow became automated and personalized to speed up fashion industry. The above article surely helps you to recognize the free fashion design software available in the market, all you need to know is one should be aware about the software details.